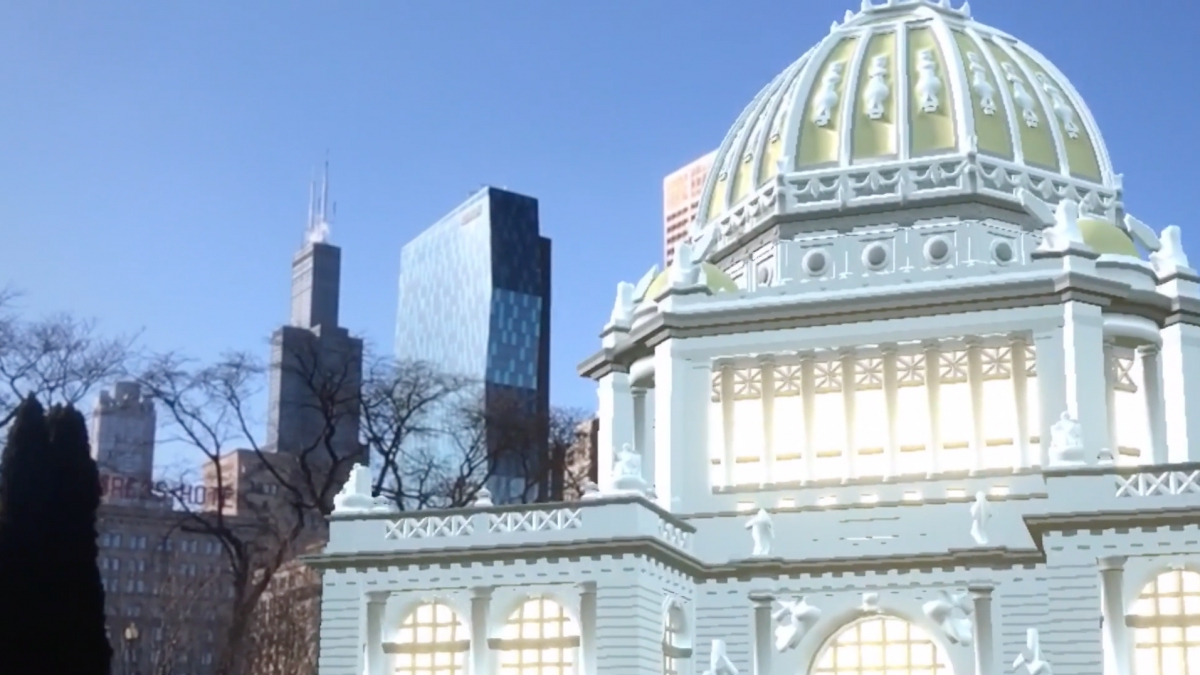 On May 1st 1893, President Grover Cleveland opened the Columbian Exposition on the shoreline of Lake Michigan in Jackson Park on the south side of Chicago. No matter how strong our sense of nostalgia is, the past is gone. But what if we could bring pieces of it into the present?
On the 129th anniversary of that opening, we released the first views of Chicago 1893's augmented reality experience. Chicago 1893 has been working for the last year to do just that by recreating the largest buildings from the event that were originally located around the Grand Basin. This project aims to create museum-like digital assets focused on historical integrity and architecture with the intention of expanding broadly toward experiences focused on learning and richer functionality for entertainment.
These structures are being rendered in 1:1 scale. The goal is to allow people to perceive the scope of the buildings the way those in 1893 did, if sculptures loomed from 100 feet above they will within augmented reality as well. Just imagine: classical architecture, anywhere in the world — No matter where!
Ever since HG Wells published "The Time Machine" people have been fascinated with the idea of time travel — the Chicago 1893 XR project begs the question: "what if you could bring the past to back life?"
The Columbian Exposition is arguably the most notable World's Fair of all time but very little of its architectural legacy remains. Over the last four years we have been diligently scouring archives to compile the documentation required to render the buildings in digital 3D for augmented reality which were created by some of the finest architects of the Gilded Age.
Now we are in the final stages of Phase 1's buildout which includes the major structures located around the Grand Basin. The plan is to make the first asset available to the public this summer. It will be the Administration Building, a Beaux-Arts structure designed by architect Richard Morris Hunt who is also responsible for the entrance facade of the Metropolitan Museum of Art in New York City and the pedestal of the Statue of Liberty.
You can expect more details as we approach this initial release.
Join us and see the Columbian Exposition come back to life.
For More:
Documentary Film: https://www.amazon.com/dp/B08JCPFJ54
Book: https://amazon.com/dp/1082413585
Merch: https://teespring.com/stores/1893-chicago-columbian-expo
Facebook: https://www.facebook.com/chicago.1893
Twitter: https://twitter.com/Chicago_1893
Instagram: https://www.instagram.com/chicago.1893