Weatherall Video Debut @ Less Than a 1000 Followers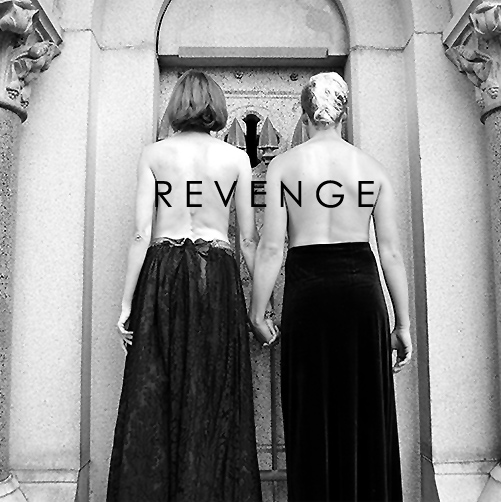 REVENGE REVIEWS
A lifelong resident of the legendary town of Mystic, Connecticut, songwriter and multi-instrumentalist Rich Freitas' latest single, "Weatherall," from his debut solo album REVENGE, is based on a true story.
"In 1995, a group of Mysticites decided to build a disco on their spacious attic floor. A DJ booth was installed, sound equipment from the rehearsal space of several local bands was hauled up the stairs, and the music began promptly at 10pm," writes drummer Rich Freitas.
"Weatherall" is a special dedication to one of their original inspirations – Andrew Weatherall.
The song is a touching tribute with an edgy, lo-fi vibe that is a bit reminiscent of Velvet Underground, complete with an electric slow burn, and one of the key musical veins that runs throughout the splendid nine-track album.
For his first album, Freitas decided to release it under the moniker Ellery Twining.
"Revenge", released on January 17th, is an acoustic rock album hosting 9 songs. The release strikes an easy and rather stripped-back feel, especially in the first song "A Month of Sundays", which begins with acoustic guitar and his mostly spoken vocals, speaking about a divorce through the eyes of a child. The honest, curious, and confused thoughts have been put into lyrics in such an endearingly simple way, whilst also making sure to hit straight in the feels.
The lyrics feel like they've been taken out from the artist's personal diary, and he's got a knack for writing them in a captivating way. There are deep philosophical thoughts applied to incidents that take place in everyday life. You get the quivering, fearful afterthoughts following a closely witnessed car accident in "Let Me Die Onstage" and memories of Mom's new boyfriend and the argument that happened between them in "Civic Duty".
Personal art, as Francis Ford Coppola puts it, is what we need these days. And this is what Ellery Twining is trying to achieve with Revenge. Storytelling is prominent and vivid throughout the album. "A Month of Sundays" and "Let Me Die Onstage" feel like scenes from movies that paint an image so poignant and heartfelt. Ellery -the alias chosen by artist Rich Freitas- writes from a personal standpoint, using bells, bass, and acoustic guitars to accompany a sensitive, personal journey, like in "Civic Duty", "Middle Name", and "Sequence". One of the killer tracks is "The Day Jeff Buckley Died" part tribute, part fantasy; this song captures the core of what Revenge wants to say about the world.
Part fact and part fiction, a walking contradiction, this is what Ellery Twining's Revenge is about. Philosophical, lyrical, and contemplative, Revenge has a lot to say about the world we live in through the lens of a very rich and intricate inner world of a man child, a serpent, and a storyteller as prolific with his words as he is with his melodies.
Taken off the unforgettable 9 track debut LP called 'Revenge', Ellery Twining brings us a track filled with authentic and honest energy which is all about that party that unintentionally ruffled a few feathers on 'Weatherall'.
Ellery Twining is a Mystic, Connecticut based indie singer-songwriter and multi-instrumentalist who makes soundtracks that seem to time travel from another era completely.
Produced in a log cabin on the high valley side along the Connecticut River in Haddam CT – you feel this warm composition simmer rather splendidly – as it hums along like a classic car that has just been tuned to perfection by a professional at his craft.
Featuring guitar-playing of the highest magnitude possible, as it breezes splendidly into your ears, Ellery Twining has our hearts alive on a marvelously delivered track that shall have you feeling in a reflective mood from those past moments that are firmly entrenched into your memory.
The sound of this talented songwriter immediately won me over. An artist who focuses heavily on the power of words and who is very gifted in telling stories.
I was mesmerized listening to the stories told on this album. A style that reminded me of Lou Reed, Nick Cave, and sometimes Beck for the music part … brilliant.
Ellery Twining manages to stand out from the crowd because he offers something unusual, his music is fascinating, and hypnotic.
REVENGE is not an album to be listened to only once, to fully appreciate it and to completely understand the musical universe created by this artist, you have to listen to it several times.
The atmosphere created, and the refinement of the musical arrangements, coupled with the visionary lyrics, have absolutely bewitched me.
A beautiful discovery that I recommend to everyone.
For all Alternative Rock music lovers, Ellery Twining is the artist you need to check out. On this Revenge album, the artist makes us discover his artistic universe thanks to instruments that he alone can manage to bring together to give us a magnificent acoustic sound.

Everything is here for you to have a great day in music.
You will be won over by the nine tracks that make up this album.
Mystic, CT based artist Ellery Twining has released the phenomenal album REVENGE in January of 2022. It is a collection of nine songs that you need to hear this weekend.
'A Month Of Sundays' opens the release, and instantly, Ellery Twining's character and charming vocals attract the listener's attention. Lyrically, the song is relatable, as it resonates with its audience.
'Sequence' is a standout track. From the guitar riffs to the melodic bass, it is a song that is filled with texture and colour. 'The Day Jeff Buckley Died' features gorgeous chordal progressions and punchy percussion.
Finally, 'Belt Of Orion' closes the release, and Ellery Twining's trademark vocals tell a story that has the listener entranced. He is a talented troubadour who is making must hear music.
For a song to be good, there is not a need for many elements, if talent speaks louder.
This is exactly the case with Ellery Twining with his song A Month Of Sundays.
It is a composition guided by the acoustic part and very well supported by a bass that is present, transiting between the guitar notes- and the calm, but precise beat of the drums that marks each measure very firmly.
A Month Of Sundays has a very well placed vocal that creates a fitted mix between singing and reciting the lyrics in a storytelling format.
At certain moments, there is a certain influence of Lou Reed in his movements, but with a very peculiar originality that makes A Month Of Sundays have the signature of Ellery Twining without simply looking like a copy.
A song made to pay attention to and understand the whole concept contained within, so that we have the opportunity to dive right into the world of Ellery Twining.
As such, the sound of "Revenge" is sparse and haunting, with an infectious, slow-pulse percussive underpinning that propels the flow from song to song in a connective fashion. In addition to Freitas's acoustic guitar floorplans — he was seduced by the chord structures of the gospel material that he was listening to- there are splashes of moody piano runs, keyboard atmospherics and riverine bass guitar figures.
All this works beautifully behind his vocal delivery. Freitas, who's also a poet (and who adopted the name Ellery Twining from a character in a novel he's finished writing), relies on a dry, hypnotic, spoken-word delivery punctuated by timely moments where he'll sing a refrain or phrase to great effect. It's not remotely hip hop, but more in a style that calls to mind the work of artists like Lou Reed, Jim Morrison and Tom Waits.
In fact, Freitas says, he was most inspired by Neil Tennant of the Pet Shop Boys, Laurie Anderson and, quite specifically, the phrasing and intonation of Neil Young in the song "Tired Eyes" from the classic "Tonight's the Night" album.
"I knew I couldn't carry a record by singing — I don't have the voice — but I knew I could synchronize the poetry and use the syntax and rhythm of spoken word to get the songs across and sing just enough to give it a bit of emphasis…" Freitas says. "And it's a great credit to Eric that he helped me get this done the way I imagined and hoped."
When he decided to record the album, Freitas says there was never any real possibility other than to go to Dirt Floor. "I'd never met Eric, but the testimonials from everywhere and everyone — including a lot of musicians I know — were overwhelmingly positive. And when we did meet, it was an instant connection."
"We have similar musical interests, but more than the song demos, I was impressed by Rich's motivation and vision," Lichter says. "He came to work with detailed notes on overdubs and ideas and he knew exactly what he wanted. It was a fun project and he's a great and talented guy. Most of my job was simply to back off a little bit and let Rich create the album he he heard in his head."