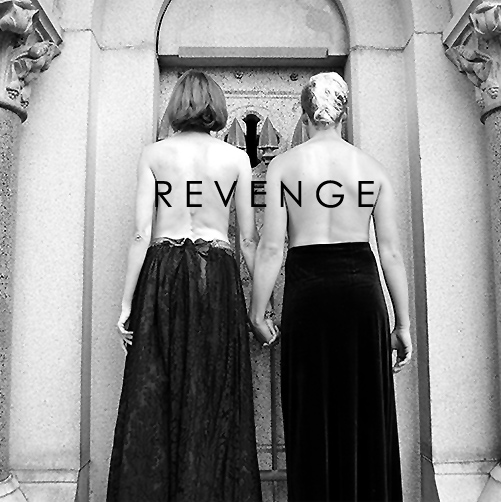 REVENGE REVIEWS
A lifelong resident of the legendary town of Mystic, Connecticut, songwriter and multi-instrumentalist Rich Freitas' latest single, "Weatherall," from his debut solo album REVENGE, is based on a true story.
"In 1995, a group of Mysticites decided to build a disco on their spacious attic floor. A DJ booth was installed, sound equipment from the rehearsal space of several local bands was hauled up the stairs, and the music began promptly at 10pm," writes drummer Rich Freitas.
"Weatherall" is a special dedication to one of their original inspirations – Andrew Weatherall.
The song is a touching tribute with an edgy, lo-fi vibe that is a bit reminiscent of Velvet Underground, complete with an electric slow burn, and one of the key musical veins that runs throughout the splendid nine-track album.
For his first album, Freitas decided to release it under the moniker Ellery Twining.
"Revenge", released on January 17th, is an acoustic rock album hosting 9 songs. The release strikes an easy and rather stripped-back feel, especially in the first song "A Month of Sundays", which begins with acoustic guitar and his mostly spoken vocals, speaking about a divorce through the eyes of a child. The honest, curious, and confused thoughts have been put into lyrics in such an endearingly simple way, whilst also making sure to hit straight in the feels.
The lyrics feel like they've been taken out from the artist's personal diary, and he's got a knack for writing them in a captivating way. There are deep philosophical thoughts applied to incidents that take place in everyday life. You get the quivering, fearful afterthoughts following a closely witnessed car accident in "Let Me Die Onstage" and memories of Mom's new boyfriend and the argument that happened between them in "Civic Duty".
Personal art, as Francis Ford Coppola puts it, is what we need these days. And this is what Ellery Twining is trying to achieve with Revenge. Storytelling is prominent and vivid throughout the album. "A Month of Sundays" and "Let Me Die Onstage" feel like scenes from movies that paint an image so poignant and heartfelt. Ellery -the alias chosen by artist Rich Freitas- writes from a personal standpoint, using bells, bass, and acoustic guitars to accompany a sensitive, personal journey, like in "Civic Duty", "Middle Name", and "Sequence". One of the killer tracks is "The Day Jeff Buckley Died" part tribute, part fantasy; this song captures the core of what Revenge wants to say about the world.
Part fact and part fiction, a walking contradiction, this is what Ellery Twining's Revenge is about. Philosophical, lyrical, and contemplative, Revenge has a lot to say about the world we live in through the lens of a very rich and intricate inner world of a man child, a serpent, and a storyteller as prolific with his words as he is with his melodies.
Taken off the unforgettable 9 track debut LP called 'Revenge', Ellery Twining brings us a track filled with authentic and honest energy which is all about that party that unintentionally ruffled a few feathers on 'Weatherall'.
Ellery Twining is a Mystic, Connecticut based indie singer-songwriter and multi-instrumentalist who makes soundtracks that seem to time travel from another era completely.
Produced in a log cabin on the high valley side along the Connecticut River in Haddam CT – you feel this warm composition simmer rather splendidly – as it hums along like a classic car that has just been tuned to perfection by a professional at his craft.
Featuring guitar-playing of the highest magnitude possible, as it breezes splendidly into your ears, Ellery Twining has our hearts alive on a marvelously delivered track that shall have you feeling in a reflective mood from those past moments that are firmly entrenched into your memory.
The sound of this talented songwriter immediately won me over. An artist who focuses heavily on the power of words and who is very gifted in telling stories.
I was mesmerized listening to the stories told on this album. A style that reminded me of Lou Reed, Nick Cave, and sometimes Beck for the music part … brilliant.
Ellery Twining manages to stand out from the crowd because he offers something unusual, his music is fascinating, and hypnotic.
REVENGE is not an album to be listened to only once, to fully appreciate it and to completely understand the musical universe created by this artist, you have to listen to it several times.
The atmosphere created, and the refinement of the musical arrangements, coupled with the visionary lyrics, have absolutely bewitched me.
A beautiful discovery that I recommend to everyone.
For all Alternative Rock music lovers, Ellery Twining is the artist you need to check out. On this Revenge album, the artist makes us discover his artistic universe thanks to instruments that he alone can manage to bring together to give us a magnificent acoustic sound.

Everything is here for you to have a great day in music.
You will be won over by the nine tracks that make up this album.
Mystic, CT based artist Ellery Twining has released the phenomenal album REVENGE in January of 2022. It is a collection of nine songs that you need to hear this weekend.
'A Month Of Sundays' opens the release, and instantly, Ellery Twining's character and charming vocals attract the listener's attention. Lyrically, the song is relatable, as it resonates with its audience.
'Sequence' is a standout track. From the guitar riffs to the melodic bass, it is a song that is filled with texture and colour. 'The Day Jeff Buckley Died' features gorgeous chordal progressions and punchy percussion.
Finally, 'Belt Of Orion' closes the release, and Ellery Twining's trademark vocals tell a story that has the listener entranced. He is a talented troubadour who is making must hear music.
For a song to be good, there is not a need for many elements, if talent speaks louder.
This is exactly the case with Ellery Twining with his song A Month Of Sundays.
It is a composition guided by the acoustic part and very well supported by a bass that is present, transiting between the guitar notes- and the calm, but precise beat of the drums that marks each measure very firmly.
A Month Of Sundays has a very well placed vocal that creates a fitted mix between singing and reciting the lyrics in a storytelling format.
At certain moments, there is a certain influence of Lou Reed in his movements, but with a very peculiar originality that makes A Month Of Sundays have the signature of Ellery Twining without simply looking like a copy.
A song made to pay attention to and understand the whole concept contained within, so that we have the opportunity to dive right into the world of Ellery Twining.
As such, the sound of "Revenge" is sparse and haunting, with an infectious, slow-pulse percussive underpinning that propels the flow from song to song in a connective fashion. In addition to Freitas's acoustic guitar floorplans — he was seduced by the chord structures of the gospel material that he was listening to- there are splashes of moody piano runs, keyboard atmospherics and riverine bass guitar figures.
All this works beautifully behind his vocal delivery. Freitas, who's also a poet (and who adopted the name Ellery Twining from a character in a novel he's finished writing), relies on a dry, hypnotic, spoken-word delivery punctuated by timely moments where he'll sing a refrain or phrase to great effect. It's not remotely hip hop, but more in a style that calls to mind the work of artists like Lou Reed, Jim Morrison and Tom Waits.
In fact, Freitas says, he was most inspired by Neil Tennant of the Pet Shop Boys, Laurie Anderson and, quite specifically, the phrasing and intonation of Neil Young in the song "Tired Eyes" from the classic "Tonight's the Night" album.
"I knew I couldn't carry a record by singing — I don't have the voice — but I knew I could synchronize the poetry and use the syntax and rhythm of spoken word to get the songs across and sing just enough to give it a bit of emphasis…" Freitas says. "And it's a great credit to Eric that he helped me get this done the way I imagined and hoped."
When he decided to record the album, Freitas says there was never any real possibility other than to go to Dirt Floor. "I'd never met Eric, but the testimonials from everywhere and everyone — including a lot of musicians I know — were overwhelmingly positive. And when we did meet, it was an instant connection."
"We have similar musical interests, but more than the song demos, I was impressed by Rich's motivation and vision," Lichter says. "He came to work with detailed notes on overdubs and ideas and he knew exactly what he wanted. It was a fun project and he's a great and talented guy. Most of my job was simply to back off a little bit and let Rich create the album he he heard in his head."
Rich Freitas has been behind the drum kit for seventeen years now. For bands like Low-beam and Slander, he has been patient in developing his own musical voice. His debut solo album, using the name Ellery Twinning, was recorded in a log cabin in his native Connecticut. These tracks certainly have a bucolic atmosphere; acoustic guitars, relaxed drums, intrepid bass, and touches of electric guitar and piano that add colour, creating a chilled-out, pensive vibe.
The most unique feature of these tracks, however, is not in the tight, middle-of-the-road, and ultimately inoffensive music, but the stories yarned via a Frank Black meets Shawn Mullins verbalism. Pleading sincerity through intonation, these lyrics are stories, stories that don't necessarily need to be paid full attention, as one can let their half deadpan, half sarcastic delivery become another instrument, their core meaning able to seep through thanks to some descriptive imagery and unique character observations.
A Month of Sundays contrasts spiritual practice ("I read my first self-help in the third grade"), with the theme of trying to conceptualize divorce, while elsewhere the songs are generous in their honest thoughts on personal matters. On "Civic Duty" Freitas writes an interesting character study of his mother's boyfriend, a gregarious man nicknamed Rat, who babysat him from the comfort of the neighborhood bar.
Freitas doesn't sing often on this record, but when he does, like on tracks such as "Let Me Die Onstage" and "The Day Jeff Buckley Died", the results aren't always as successful as his spoken word. Despite his proficiency in multi-instrumentalism and lyricism, straight singing may not be the artist's strong suit, and the aforementioned tracks are somewhat marred by out-of-key vocal deliveries.
Though it is a fairly one-note affair, Revenge manages to feel important for its determination to one style of play, and the depth of lyricism gifted to the listener.
When not casting the I-Ching or furiously meditating, Beatle George would try to write songs. Supposedly, the advice he received from one of the gurus was to write the first thing that came into his mind. Sometimes he'd just open up a book and write a song based on the first line that he happened to see.
Not many songwriters apply this technique. Sure, there are some whose automatic pop writing you may have heard. But, for the most part, modern pop music is carefully structured and folded like a napkin at a fancy dinner. There's no room for error, and thus, no room for spontaneity.
Ellery Twining's A month of Sundays sounds written on the spot. I'd be surprised if it weren't. It's a short story. A short audiobook with Donavan-like guitars accompanying it. But, it also happens to be a very interesting, well-written, and heartbreaking short story. It's a song meant to capture listeners by surprise and give them no hooks or riffs on which to rest. Ellery Twining is brave and has a few stories to share.
I liked the song from the very first line. I waited for the hook and was glad it never arrived.
Revenge is the name of the debut solo LP from the 17 Relics, Low-Beam, and Slander drummer Ellery Twining. It was released on January 17, 2022 and produced by Eric Lichter at Dirt Floor Recording & Production Haddam, CT. and Engineered by Guido Falivene – All Songs were written by Ellery Twining.
Revenge was recorded between 20 October and 13 December 2021 and mastered by Steve Wytas at Dirt Floor.
Rich Freitas, an artist and multi-instrumentalist who has been a drummer for various bands in the rock music industry for over 30 years, is the man behind that identity. After a period of not composing any music, the notion of making a record – just making his own songs without forming a band – sprang into his head. As a result, he created the alias Ellery Twining, a solo project under which he published the album.
WEATHERALL VIDEO REVIEWS
"Weatherall" is a debonair rocker from Ellery Twining, the solo project of Connecticut-based artist Rich Freitas. The track comes via his debut album, REVENGE. "Weatherall" is a suavely melodic success from Freitas, who is also known for his drumming with the acts 17 Relics, Low-Beam, and Slander.
The opening vocals convey a spoken word composure, setting the stage with anticipation amidst the jangly backing guitars. Twangy adornments arrive alongside the slight percussion. The track escalates with a haunting fervency thereafter. "We built a disco in the attic, played your records, to get the people to dance, under any circumstance," the vocals remark, driving to the haunting "I didn't realize," refrain. The understated verses expand with seamless cohesion into the chorus, full of mood and mystique.
Per Freitas, the track and video "are tribute to British producer/DJ Andrew Weatherall, who passed as I was writing the songs for REVENGE."
The song you're about the hear today is full of Memories. The specks of fleeting nature have been joined back together to recreate what took place and everything that was felt at the time, and it has taken the form of an audio-diary that serves as a memory sphere giving a shoutout to times gone past.
Most importantly, the single is created as a tribute to a British DJ and producer Andrew Weatherall. Thus the track is titled after the DJ, who sadly passed away during the time Ellery Twining worked on his album "Revenge", on which"Weatherall" was the debut single. The whole release is a lovely reminiscing spoken word journey with an occasional singing, and the debut single is no different.
"Weatherall" takes the listener back to a party organized in an attic, people dragging in sound equipment and putting a whole lot of effort into setting the whole thing up. The music that was played were Weatherall's records, and the atmosphere was thick with excitement and joy. Perhaps part of the excitement came from the fact they were all trespassing on a property set to be demolished, and when demolition did take place in the following week, the mixed emotions present at that time are hard to describe. Ellery doesn't describe the emotions, but the way he tells the story of what took place leaves a lot to the listener's imagination.
The single is accompanied by a music video done by photographer Michelle Gemma and edited by James Canty. Acting as a visual companion to the story told in "Weatherall", the music video contains a host of memory-filled clips of dark intimate dancefloor in the attic, the DJ playing records as well as pictures of invitations to the party. The upsetting images of demolition of the house that was used for parties followed by the organizers' sadness and anger definitely leaves a haunting mark.
"WE BUILT A DISCO IN THE ATTIC for real 1995" Ellery Twining
Both the song and the music video of "Weatherall" are an excellent tribute to the whole underground club culture, especially the passion and excitement present in organizing those events. It's insightful even for those who have never been part of this culture.
I already reviewed Ellery Twining in the past but this talented artist is back with a new video for the song WEATHERALL included in his album REVENGE and I want to share my opinion about it.
The musical universe created by this artist is truly fantastic
In my opinion, Ellery Twining has managed to create a bridge between poetry and music.
Don't get me wrong there are many bands and artists who write beautiful and poetic lyrics. In the case of this artist, however, the music interpretation, and performance live to support the story told in the lyrics.
The music accompanies and is not predominant, the melody of the voice and the words are the protagonists of this musical and visual representation.
The sound of the song WEATHERALL reminded me of The Doors.
The video is beautiful with this vintage patina that seems to take a step back into the past. The sequence of frames perfectly describes the mood and meaning of this song.
Ellery Twining's artistic vision is so unique and hard to label that it makes this project stand out from the crowd.
Simply fantastic.
Rich Freitas has been in many seminal rock bands over the past thirty years as a drummer (17 Relics, Low-Beam, and Slander), and now he just released his first solo album as Ellery Twining.
After seven years of not making any music at all, the idea to simply write his own record and not to start a band resulted in "Revenge".
The song and video are a tribute to British producer/DJ Andrew Weatherall, who passed as I was writing the songs for "REVENG
The 17th of February 2020 was a sad day for anyone who knows anything about the acid house scene that swept through England in the 90s'. On that day, one of the country's most talented producers and DJs, Andrew Weatherall, hopped off this mortal coil.
It's incredible to think that his first meaningful day in the studio produced the classic Happy Monday's 'Hallelujah' remix, a song that has since become synonymous with the Madchester scene. Ellery Twining may come out of the United States, but the man who shaped modern English music in such a pivotal way clearly had a lasting impact on the artist.
'Weatherall' is the first single taken from Ellery's debut album 'Revenge'; musically, it's a far cry from anything its namesake was widely associated with. The bare acoustic guitars and spoken lyrics are more akin to fellow East Coast artist The Pixies, however, its poignant lyrics perfectly encapsulate what it feels like to lose an inspiration. "We built a disco in the attic / Played your records / To get the people to dance / Under any circumstance" croons Twining, in a poetic tribute to a man that would have loved the sentiment of DIY raves and homegrown music scenes.
The music video is where the tribute elements really come to life. Bringing in talent such as video editor James Canty, best known for his work on Catfish and the Bottlemen's iconic 'Hourglass' featuring Ewan McGregor, was sure to help.
Snippets of household raves and smalltown gigs are spliced between stills of old-school posters and tickets that hark back to the DIY attitude of the music scene before the digital age. We finally catch glimpses of the aforementioned sparse house that holds attic raves as we see the patron's shadows lick up the walls like the flames of a fire. From afar, it's hard to tell what this small little attic in Connecticut meant to the local community, but the devastation of its loss depicted in the video is hard not to feel in the gut. Like Weatherall and the iconic Hacienda nightclub, its hard to appreciate something fully until it's gone.
As our protagonists look in futility for friends in the town that once seemed so alive, we get the sense of hopeless despair that many can relate to. That sense of loss is compounded as they scatter the pictures of their memories across the cold concrete floor.
The music is poignant, but the video adds incredibly to the sense of heartbreak 'Weatherall' brilliantly portrays. The ultimate worthless endeavour of trying to create something organic in an increasingly plastic and over-indulgent society is shown at its bitter best throughout the spliced scenes. 'Weatherall' is about the death of a scene, the death of a man and the death of a world that, no matter how hard we try, will never come back.
Fresh off of the release of his newest album REVENGE, Ellery Twining has delivered an outstanding music video for one of the singles, "WEATHERALL". Please read on for our full review of the track, as well as a background on this emerging artist.
You may know him as Rich Freitas, but this is actually a different alias known as Ellery Twining. Now we have definitely loved our multiple listens of his debut solo record REVENGE, but the song that needed the music video treatment the most finally has received it. We have linked the video below so that you can check it out for yourself, but let us confidently tell you right now that we hope you check out the record in full as well.
Bringing a much-needed visual component to an imagery filled single such as "WEATHERALL", Ellery received help on the video editing end from James Canty who has also worked with Spiritualized and Catfish and the Bottlemen. This song is also serving as a tribute to British producer/DJ Andrew Weatherall, who passed as Ellery was writing the songs for REVENGE. In our opinion, it is so nice to see these works of art that will ultimately live on forever. For those who are close to Andrew, they will now forever have these songs and the video to come back to and enjoy when times are tough.
So much of what we enjoyed about this song and video is how the tone perfectly matches up with the cinematography and the way it was shot. The song itself is a tad melancholy at times and so we are thrilled that the video actually took the mood and the atmosphere into consideration. It might be obvious, but truly the lyricism presented here is top notch in all capacity. Ellery has gone above and beyond in his songwriting capabilities and it transcends "WEATHERALL" into the entirety of the record. Our suggestion would be to check out the video first, but once you fall in love, please go ahead and check out the rest of the record to experience an artist in top form.
Setting the tone with a bold guitar strum, Ellery Twining, who is also known as artist Rich Freitas, opens his song WEATHERALL with the lyrics, "I thought I had an obligation, so we sent out the invitation, to pass on knowledge, surviving decades, the next generation…"
WEATHERALL expands with intricate guitar riffs and textured drums to deliver an enigmatic and thought provoking opus with an alternative folk meets soft rock hybrid energy.
The track is taken from Ellery Twining's album REVENGE, which is available on Bandcamp at present, and also comes with a Michelle Gemma directed visual! Speaking on the meaning of the release which is all about "a party that unintentionally ruffled a few feathers", Ellery Twining confesses, "The song and video are tribute to British producer/DJ Andrew Weatherall, who passed as I was writing the songs for REVENGE."
The music video is a cinematic, primarily film-noir piece with pops of colour and exemplifies "a deep dive into intergenerational relationships". The visual is edited by James Canty, whose video credits include Spiritualized's Out of Sight and Catfish and the Bottlemen's iconic video for Hourglass featuring Ewan McGregor.
We appreciate the lyricism and poetic nuance of WEATHERALL, some highlights include, "We built a disco in the attic, we played your records…", and the profound yet eerie "I didn't realize it was a haunted dancehall…"
Ellery Twining released a debut album called Revenge which was a solo project. And the very first music video released is that of Weatherall, a poignant track from Revenge.
Weatherall is an intense song that brings about nostalgia and many such tender feelings. The song in itself is a rich track with outstanding musicality. The music in Weatherall is kind of intense and dark which will set you in just the right kind of mood. The song features a mesmerizing tune that plays throughout the song. It is quite catchy and unique. However, that's not the best part. The best part is the way the vocals add their magic to a song that was already so magical because of its outstanding soundscapes. The vocals feel like an intense narration of a story perhaps long forgotten. The vocals add even more intensity to all the emotions and feelings you go through when you listen to this song. The song has all the qualities that make it a rare gem. Nothing about is conventional. Each element and undertone appear to be crafted with so much ingenuity that you could easily tell when you truly listen to the song.
Moreover, the lyrics too are quite intense. Exploring relationships, love, and loss so beautifully, Weatherall is a song you should listen to if you want to witness some finely crafted art.
With amazing soundscapes, great lyrics, and heavily impactful vocals, Weatherall is sure to leave you astounded.
At first, if we were to summarize the release of "Weatherall", single and video by Ellery Twining, we would say that it is something 'complete'. Yes, the meticulous work, both of the composition itself and of the video that it won, complement each other and deliver more than enough for the appreciation of an audiovisual work that borders on perfection.
The single/clip was taken from the first solo album by Ellery Twining, who is also known as Rich Freitas, titled "Revenge". The song and video pay tribute to British producer/DJ Andrew Weatherall, who passed away while the artist was writing the album.
With a dark atmosphere, the song has a soft but intimate feel and a melody, in a way, melancholic. It couldn't be less, after all it is a tribute theme. "Weatherall", after all, is a visceral song, with all the instruments sounding organic and well captured. A composition that can fit both indie, folk and pop, with remnants of alternative rock.
With a mix of acoustic and electric, highlighting the strummed guitar and dynamic bass, in addition to a complementary guitar and cadenced drums, the song continues with vocals practically recited in the verse and sung in the chorus. It really is the narration of a life, but with a theme that can make anyone reflect on it.
The icing on the cake is the beautiful clip that connects perfectly to the song. The audiovisual work follows the same tune as the music, so much so that after watching the clip, it is quite difficult to hear the song without seeing it, and vice versa. The collection of images and photography was of such great happiness and synchronism, which generates a positive impact, despite the mood of nostalgia. Anyway, if the intention was to deliver a complete work, which is likely, Ellery Twining not only succeeds, but exceeds expectations.
Today we have a nice surprise for you. It's true that with the information circulating all over the world, it is often appropriate to get a breath of fresh air, a quality musical parenthesis. With Ellery Twining's "WEATHERALL" whose music we discovered, what it is about are a few rare minutes of authentic music which is now revealed in the form of a video clip.
Thanks to addictive melodies which reveal themselves with a most surprising delicacy, Ellery Twining imposes himself and leaves you no choice. You are transported on a cloud of familiar sounds, in a kind of good musical taste that stands out directly from the lot as a certain quality is present.
We are not going to give you an explanation of the text as our low level of English does not allow us to do so, but one thing strikes people's minds, Ellery Twining is a very nice surprise, his music expresses itself very well for him and suggests great things for the future. Without further ado, discover the artist's universe below~
I'm proud to introduce the new debut solo from Rich Freitas, "REVENGE" under my Ellery Twining alias. While showcasing WEATHERALL (Original Video) by Ellery Twining, the video was written and directed by Michelle Gemma/with video editing by James Canty.
The song and video are a tribute to British producer/DJ Andrew Weatherall, who passed when the song was written
Featuring real-life memories of DJ Andrew's good old days with the decks and fantastic music, the video is based on a true story. One of the coolest scenes was an example of a real disco in the attic with some event flyers created by the group. During this white house celebration, the lofts danced to the rhythms while having the time of their lives. Song lyrics that are unlike any you've heard before making this song stand out from the rest
A mystical yet colorful place an artistic alternative folk band "Ellery Twining" coming from a town called Mystic in the US telling us some stories to us with historic people like their new release "Weatherall" on the 22nd of June, among many other releases that can get you more curious about the making of their songs and videos that show the exact meaning of each word that is written for this piece.
Rick Freitas is the main vocal, going under the name of "Ellery Twining," Dave Bentley on the bass guitar, Brad Bensko on the electric guitar, and Jason Curland on percussion. They all got together and created some of those art pieces with the help of Michelle Gemma with the photographs and videos that were added in the making of their work, not to mention also, Kerry Niering and Erin Pipping.
The song starts with Ellery telling us a story about a dance hall that then got torn down quoting "The final demolition found us in handcuffs" with his clear voice and guitar riffs continue till the end of the song, Ellery is the master of the lyrics of the songs he has written, clearly telling his story in a creative and calm voice he ascends during the songs he produces that are perfectly synced together.
The calming instrumental void that is mastered by these unique artists and the artistic video that was produced is equally amazing with a vibe that's a bit mellow and fun to listen to. It's a mix of feelings they carry within their music. Music can't be done with a true story that is hidden in creativity and invention in such a way.
THE DAY JEFF BUCKLEY DIED / SINGLE REVIEWS
Twining turns fate into poetry in this spoken-word, acoustic guitar single. "The Day Jeff Buckley Died" is an artistic representation of a fatidic day that leaves us with a sense of wonder under its chilled, laid-back atmosphere.
Few men possess the skill to portray life using simple words. Yet less, mix poetry and music in such a smooth way. Rich Freitas, AKA Ellery Twining, is one of them. Using simple verse lines, Twining achieves a poeticized vision that's unique and timeless.
Taken from his latest album "Revenge", this is his second single review, following his first single Weatherall. Hosting 9 songs, his album is a collection of acoustic guitars and mostly spoken-word, all with an easy vibe. A drummer by nature, Twining knew he hadn't the voice to carry a whole album, but he could use his poetry to blend it with his music.
For those of you who don't know, Jeff Buckley was an other-worldly artist who sadly passed away at a very young age (30 yo). He drowned in the Mississippi river during a spontaneous evening swim, fully clothed, caught by the wake of a passing boat.
Ellery captures the moment, giving it a poetic turn with a few simple lines: and he heard the sound / and he heard the river / he walked into the water. He also makes reference to an unknown party speaking to Jeff in: "you may have written these songs, that people come to hear / but the audience, that's our song."
Using no more and no less than an acoustic guitar, drums, bass and keys, Twining creates an hypnotizing ambience. His lyrics might not come through as obvious, which is what gives this song its sense of wonder. What Twining is actually speaking about we might never know, but it does leaves it open to our own interpretation.
This song is also a masterpiece. This artist has managed to find a truly incredible way to communicate with the audience.
His style manages to make you feel the words like salt on the living flesh. These songs exude pure emotions that push you into a universe made of real sensations.
Try to imagine finding yourself in a room full of people and suddenly everyone takes off their masks and shows themselves for who they really are.
Ellery Twining is an artist without a mask who is able to investigate the depths of his unconscious. The only place where is able to find these lyrics and these melodies.
I am sure that the legendary Jeff Buckley is listening to the magical notes of this song which recall that tragic moment when in the Mississippi River he was caught in the wake of a passing boat.
The chills come when Ellery Twining sings "and he heard the sound and he heard the river" … it makes you live that moment and you feel like you are there to say goodbye to Jeff … just fantastic!
Ellery Twining is a passionate writer, poet, singer, and musician based in Greenmanville, a small village in Mystic, Connecticut. Ellery was influenced by music at a very early age. He also writes poetry which is blended together with music creating a very raw and unique style of music. His music can be defined as Alt-rock sort of psychedelic. Ellery has been writing songs for years now and has released some of them on sites like Bandcamp.
His latest single "The Day Jeff Buckley Died" is a song about the unfortunate and tragic death of the legend Jeff Buckley. Ellery's style of music is so unique that it doesn't feel like a conventional song but rather a storyteller just shining with his abilities to tell a story. His poetic and artistic approach to his songs is just phenomenal.
The song kicks off with a soft mellow acoustic guitar rhythm followed by a classic bass and drums. Soon the vocals of Ellery begin, his voice seems that he is reciting the lyrics as if it's a poem. The combination of the dark and eerie music with poetry is just amazing. The song gives a lot of 80s and 90s vibe and the music is produced brilliantly.
The art of storytelling~Ellery Twining a master of, and his way of making poetry rhyme with music is out of the world. The song "The Day Jeff Buckley Died" is the perfect example of it.
Ellery Twining is a writer and poet, involved with music since childhood. His work brings a lot of his artistic background as we can see in the single "The day Jeff Buckley died".
With an introspective and mysterious sound that mixes indie, folk and alt pop. The voice practically recites the lyrics of the song, which follows on a guitar base and soft elements. The chorus is melodic, melancholic and straight to the point.
Based especially on poetry and a strong focus on writing, Ellery directs us to a curious family history in this single. Her voice is totally hypnotic and it's impossible not to pay attention.
It's almost like a scene from old American movies, when someone picks up a guitar and starts telling their story. You stand still listening and let yourself be guided by it.
That's because Ellery's style is very much fixated on poetry. Thus, he recites the words melodically intoning them to create the verses and intersperses these moments with chanted choruses that connect the pieces of the song and help us make sense of the story.
The instrumental of the single "The day Jeff Buckley died" is focused on sounds, mainly acoustic, and brings us an equally mesmerizing solo that mixes guitar, piano and other instruments.
The bass, however, is expressive and the guitar super smooth. The whole set creates an introspective and melancholy setting for the story. And it helps us travel through the events of the family's life between the courts.
Ellery Twining builds its story on a folk basis in the best Lou Reed and Bob Dylan style. At the same time, there is a touch of modern indie and alternative pop.
The single "The day Jeff Buckley died" manages to gather many artistic references to tell a story. Unintentionally, Ellery Twining wanders through American culture and builds cinematic dimensions within her folk, introspective and melancholic universe.
Another tremendous single comes to you from "Ellery Twining" from his banger album Revenge. The track is called THE DAY JEFF BUCKLEY DIED, and it features raw and exciting vocals with full, punchy.
Meaningful lyrics talking about a real story; as I mentioned before with my first review, the thing is whenever I hear from this talented artist, I really can't get enough like the way he makes music keeps me excited and alert, and this is a true art that doesn't replicate or copy anyone to sell out, when you listen to it you feel the pain and the heartache of losing someone special.
This morning at the start of the week, some are already sticking their tongues out because the heat wave announced throughout France is already taking effect. You may need a good breath of fresh air, a moment of breathing to do you good, to disconnect from the moment.
This is why we have decided to deliver "THE DAY JEFF BUCKLEY DIED" to you, the new song by Ellery Twining whose musical catalog we recommend.
With chords charged with delicacy and rare perfection, Ellery Twining leaves its mark on people's minds. Singing lines of impressive tact, a kind of delicate spoken word, to land on quality instrumentation with delicious musicality, a know-how that can be heard from the first bars of the song, the American artist the news of which we discover does not let go of you and settles down as the surprise of this week.
His song also allowed us to dive even deeper into his project entitled "Revenge" which we also recommend if you want to extend the pleasure.
Special mention to "Sequence" which is our favorite song of the project. A nice musical surprise that will allow you to set the tone today and why not the week to come, or even this summer as the project contains many quality songs.
'THE DAY JEFF BUCKLEY DIED' is the new single by Ellery Twining, from his newly released album, 'REVENGE'. If you are looking for an album that is experimental yet is still able to craft it into a coherent piece of work, then look no further.
The bass elegantly weaves itself in and out of the open guitar chords, tangling the notes together to form a kinship between melody and harmony. With this pairing, I expected any subsequent vocals to add to the melodic theme, however, Twining performs spoken word during the verses. Twining casually throws a bit of Roy Ayers into the mix with a vibraphone, because why not? This abnormal pairing of eerie spoken words and a vibraphone somehow seems to be tremendously effective. Heading into the chorus, Twining projects his fantastically sinister singing voice, with the last word of each line sounding slightly out of key like Kurt Cobain on Nirvana's MTV Unplugged record.
As a listener, the irregular structure keeps us guessing. Will he sing? Perform spoken word? Nope, he just brought the whole song to an end and then came back into the verse after a prolonged break like nothing happened. In fact, the whole track gives jam session vibes. The instruments are not always synced up, and there is a very loose feel to the instrumentation as a whole. Though the drum fills are played slightly out of time too, it personifies the music and gives it character. This is what music is all about.
Speaking of the drums, to me they stand out the most in the track. I cannot help but be reminded of Alan White's drumming on the 'Imagine' album when I hear them. The stop-starts, the simplicity, and their organic sound. Beautiful, just beautiful. And like that album, 'THE DAY JEFF BUCKLEY DIED' speaks for itself.
INTERVIEW EXCERPTS
Who or what inspires you or motivates you? And why?
I was singularly inspired by the decades-long music scene in the Mystic / New London CT area. In 1977, New Londoners Hugh Birdsall and Peter Detmold flew to London to see in person the Sex Pistols, and every other seminal punk band they could catch live in the short time they were in England.
Upon their return to the States, they began the storied institution that was The Reducers, and hard-rocking four-piece that created a musical movement over four decades. When I first saw The Reducers, I knew that I wanted to be a musician in a Rock Band. And that attitude was then spread to the next generation after me, and the generation after them.
What are your friend's and parents' thoughts on your career in singing?
I'm not sure anyone thinks I can sing, but reinventing myself has seemingly impressed certain people.
Why is your recent album called "Revenge"?
Good question. Thirty-five years ago, I heard Prince's "Sign of the Times." I was a casual Prince fan at that point, his records were played at the boutique gift shop I worked at. As I began reading the liner notes, it finally dawned on me that Prince had played all of the instruments on SOTT. I didn't realize he had been doing pretty much that his whole career, but that revelation blew my mind. I didn't know Stevie Wonder had already accomplished what Prince was doing, because as a kid in the 1970s, he was just another guy on the car radio. In the back of my mind I said to myself,
"someday, I gotta try that."
About 20 years ago I heard the solo debut LP by Alexander Spence, legendary cautionary tale from the late Sixties. Spence also played all of the instruments himself, and another seed was planted.
My last active band "Slander" ended in an abrupt fashion in the most awful way that I actually took ten months and wrote a book about the band's two year odyssey- 2012-2014. Having not played a single instrument for seven years since the breakup of Slander, I found myself picking up an old acoustic guitar I could never figure out how to play. And I wrote a song. And then I wrote another song. I asked around a bunch of my old bandmates to see if anyone wanted to put a new band together and record an album. I found not a single collaborator and decided one night to just write and sing the whole record By Myself. REVENGE.
ARTIST REFERENCES from Reviews
Nick Cave
Kurt Cobain
Donovan
The Doors
Bob Dylan
Pixies
Lou Reed
Velvet Underground
Tom Waits