When I was twelve, my sister and I finally earned the right to be able to stay home on a Saturday, while my parents went to work in the family business, "A Stitch In Time Boutique", in Downtown Mystic.  All previous summers were spent at Butler Elementary School, the host for the local Groton Summer Rec program. We enjoyed Summer Rec, with all of the field trips to Ocean Beach, rainy day arts and crafts projects making "gods-eyes" and strange cakes with blue frosting, and sunny day vigorous games of kickball and football. But then we tired of the didactic hierarchy, and begged our parents to let us stay home. We would keep busy and clean the house every Saturday: a deal our parents quickly agreed to. We lived in a raised ranch in Tanglewood,  on  Noank's  Palmers Cove, a new development built in the early 1970's, east of Mumford Cove and Groton Long  Point. There were two floors, almost identical in spatial identity. My sister and I would trade off weekly: one week I got the upstairs;  the next ,  the downstairs. It was a fair arrangement and we rarely argued about it. We worked quickly, but thoroughly,  and  listened to music on our parent's stereo. I can't quite recall why we were so satisfied to be free from the grip of Summer Rec, but it was probably due to uncomfortable budding hormones, and it felt safer listening to Cat Stevens  "Teaser and the Firecat" and Carole King's "Tapestry".
I remember this one day that I got the upstairs. I started with the bathroom, then vacuumed the entire floor, and would end my time with dusting the living room;  each shelf of books, and each knick-knack: the wooden gazelle, the amethyst geode, and the tiny marble figurines of Venus and Discobolus- the Discus thrower. Then I got to the stereo shelving unit which occupied the entire North wall of the room, and featured the German 1249 Dual Turntable, which, coincidentally lives today at the Mystic Disc. The record player was on the top right shelf, with two cabinets below it to house the vinyl collection. Below that were three drawers, two shallow ones,  on top of the third deeper drawer.  As I was dusting, I started opening up each drawer, as if I had never studied the contents before. The second shallow drawer contained my parents' wedding album. I took it out, placed it on the brown shag carpet below me, sat down, and opened it up. The first page contained the date of their wedding, 7 January 1967, and with a tiny shock paging through the familiar photographs, I realized what was bothering me.
I waited till my parents got home from work later that afternoon to make my triumphant announcement: I had found a mistake in their wedding album! I was confident that I had uncovered an important clue to something larger than my immediate comprehension. I was a serious Nancy Drew acolyte, and had read every edition in the famous Mystery Series at that point. I was certain that title number 24 "The Clue in the Old Album" was playing out in real time.
"Your wedding album has the wrong year in it",  I charged. "It says 7 January 1967, but shouldn't it be 1966, since I was born in October of 1967??"
" Yes,  you were born more than nine months later.", my mother said. "You were a honeymoon baby."
My twelve year old brain consumed this new context of information with a fair amount of alarm, or was it catholic guilt? I did the math, and it DID seem plausible, after all.
All I knew at that point was that my dad was in the Navy, and had been out to sea when I was born, and had received a telegram announcing my birth.  Growing up, as the oldest grandchild on my mother's side, my grandfather told me every single time I saw him on a visit to Massachusetts,  "I was the first person to hold you at the hospital."
It was true: my dad enlisted in the Navy as a senior at North High in Worcester, Massachusetts, on 11 October 1961.  Then he signed onto active duty at UMASS Amherst in August of 1965, as a Naval Aviation cadet. He had just met my mother on the beach at Cape Cod that summer of 1965. If you lived in Central Massachusetts, you for sure spent as much time as possible going to Cape Cod every possible weekend. Turns out, my dad had met my mom's older sister Phyllis in high school, so on a weekend when my mom found herself stranded on Cape Cod, without a ride home, my dad showed up in one of his fancy cars, he owned a Packard with a rumble seat, and a Galaxie 500, and offered my Mom, known as "Little Phylly", a ride back to Worcester. They fell in love, and she was standing by his side, when he received his wings as a Naval Aviator and commission as an Ensign that December 1966.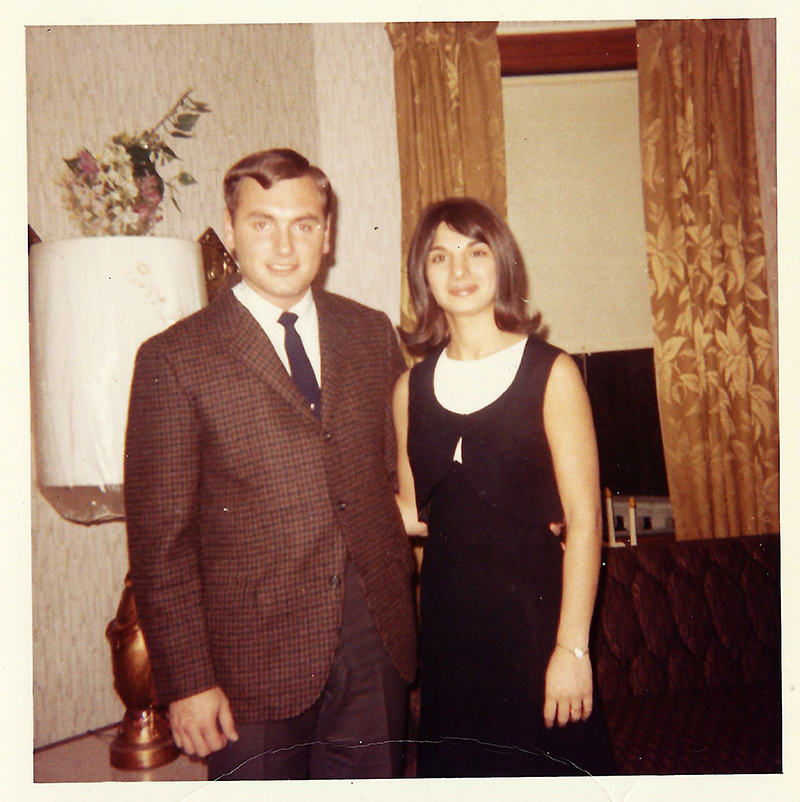 According to my mother, the wedding was spontaneous because my dad was under contract with the Navy, and they couldn't get married until he got his wings, which turned out to be 20 December 1966.  Some of their peers in the Navy had planned weddings in advance, only to find out that the groom couldn't attend his own wedding because he had not gotten in the requisite flight hours.  Also, my mother's family was planning a move to Cambridge, Ohio, from Worcester, Massachusetts, so that my maternal grandfather could start his new job. As my dad's next deployment loomed, they hastily prepared for the 7 January 1967 wedding date. In fact, there was a giant ice storm that night, which prevented my parents from travelling to New York City for their honeymoon, so they stayed in a hotel in Westboro, Massachusetts. My paternal grandfather, Rocco Gemma did not attend my parents' wedding, a fact that was dictated to us almost annually. Rocco was in New York City attending a trade show for his employer Wilson Sporting Goods, so he sprung for some Broadway tickets for their honeymoon, "Hello Dolly." My parents enjoyed a nice idyll in the city, and then my Mom moved to Ohio, to live with her parents,  and 14 year old sister Christine, and 16 year old sister Patty,  as she herself was only 21 years old. My dad departed the United States on the aircraft carrier, the USS RANDOLPH CVS-15,  to conduct Anti- Submarine Warfare Operations, on the Mediterranean Sea.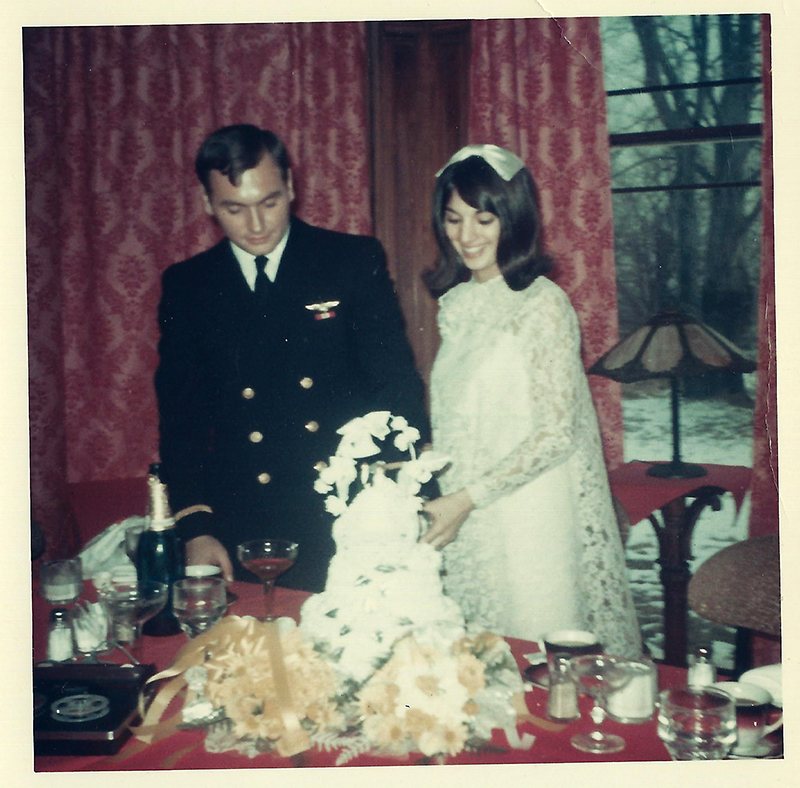 My dad was on a port call to Italy, visiting my Aunt Phyllis and Uncle Pete in Bologna, when he received the telegram from the ship that I had been born that 10 October 1967. Legend says that he went to the Sistine Chapel on his next stop to light a candle for me. He did not meet me in person until the following April of 1968,  when he returned from his "Med" cruise, and my parents left Ohio for his next assignment in Norfolk, Virginia. My sister was born in Norfolk that February of 1969.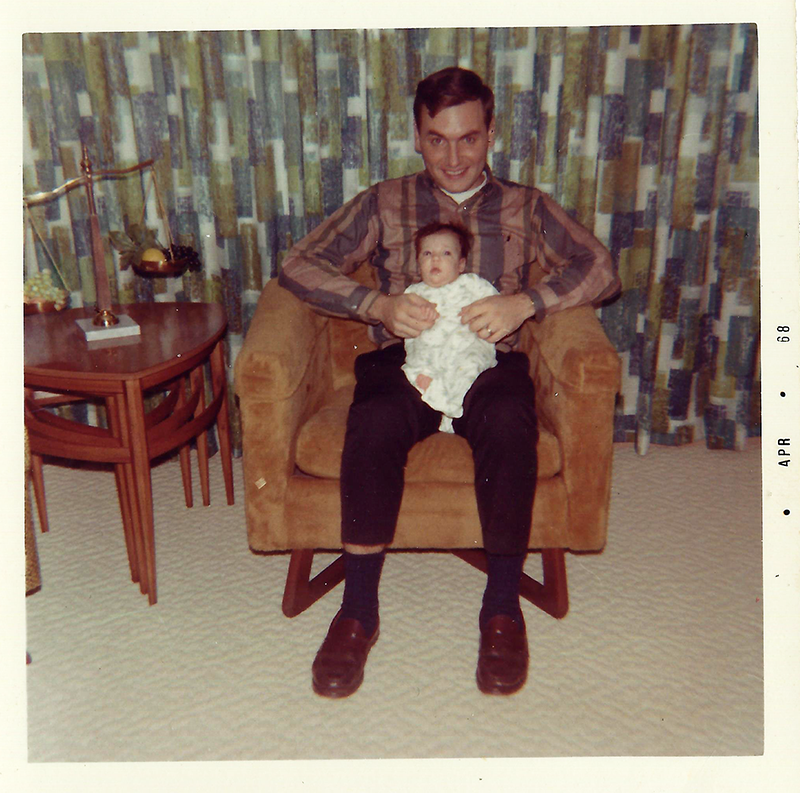 Then the transfer came in for NAS Pensacola, Florida and from May of 1970 to May of 1972, my dad served a second tour of active duty as a search and rescue pilot.. My first memories are in Pensacola and of the white sand beaches, and the hot hot hot weather every day. My mom would dress us every day for outdoor play with the little boys next door, and after five minutes of riding our big wheels down the main drag, my sister and I would run back to the garage where we would tear off everything but our shorts so we could stay cool like the boys.
It always amazes me that my mom was so young, raising two daughters, while bearing witness to my dad's Navy career. She had taken two years of advanced secretarial courses in high school, before a final preparatory year at  Ward Secretarial School in Worcester, Massachusetts, before she met my dad. After Ward, she got a job with the Mayor of Worcester, and worked for him until he lost in the next election. Her next job was working for the president of a local radio station. She went from living with her parents to living with my dad, and instant motherhood, which was de rigueur in the 1960's, a fashion that did not appeal to her honeymoon baby.
After my dad left active duty in 1972 and joined the Navy Reserves at NAS South Weymouth, Massachusetts with HSL-74, we moved to Noank.  My parents opened up the Downtown Mystic Boutique, and my dad only had to report for duty one weekend a month, and two weeks a year:  Pancakes for Dinner!  But by April of 1987 with my dad now reporting to the Naval War College in Newport, RI, alas, the rigors of a Navy career had taken its toll on my parents' marriage.  By the time my sister was set to graduate from high school that June, it was over after twenty years.